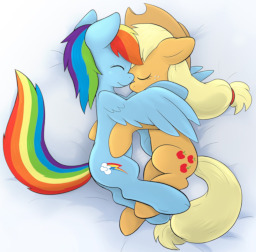 Source
Rainbow Dash and Applejack have been dating for well over four months. In all that time, the pegasus has been content with whatever Applejack wants to do to her in bed. However, she soon discovers that something is missing. She needs to tell Applejack, but... she's worried. What if her marefriend will see her in a different light?
Contains: Sleepy Applejack and Rainbow Dash, Internal monologues of an insecure pegasus, consensual snuggles, yawns, and other cute things that people with heart problems should avoid reading at all costs.
~~ Hey, check out my totally awesome friend Naviskypegasus who made a reading of my story! Oh, and here's the link to the reading on YouTube!
Chapters (1)