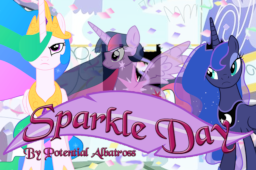 Source
On a day of remembrance, a new threat arises, shedding light on old mysteries.
This follows Two Pair by about 700 years, but is not a very similar story, and reading Two Pair is not necessary to understand Sparkle Day.
Thanks to Themaskedferret, Nekonyancer, Avox, Horizon, MeridianPrime, and Yamgoth for prereading.
Thanks to Page Turner for cover art.
Chapters (9)