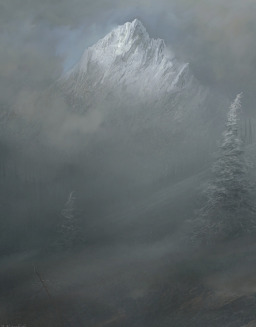 "If thou seek'st the sternest of steel, the finest of iron... If thou seek'st the hardiest of armor and the strongest of arms... Come to Everhoof, and be tested."
These words drove many to the tallest mountain in Equus, Mount Everhoof. Words from a tome of ancient days, its texts contents passed down among many prestigious families. Today, a certain young mare goes to this mountain, alone, in search of answers.
And an apprenticeship.
---
A Displaced that I am very much excited about, as it will combine, in the future, multiple aspects of different genres. I only hope it will be just as exciting for all of you.
Now, to explain a few major things. This story, well, it will be quite crossover heavy. HOWEVER, none of those crossovers will alter the story itself. AT ALL. Why? Because each crossover will only ever be made for other Displaced to make orders for weapons or armor from this story's Displaced. That's it. Period. End of of story. As far as I'm concerned, this Displaced will NEVER go to another Displaced's world unless it's to get more materials, and even then it won't be him doing it.
I know you all may think that simply because this will be crossover heavy, it will be bad, but trust me, the crossovers will be managed with the UTMOST care. Not only that, I'm making sure to have at least two or three pure story chapters between any actual crossovers, if not four or more.
Furthermore, this Displaced of mine, while he may build relationships with other Displaced, he will NEVER, not even ONCE, engage in any fights, or adventures in any other world but his own, and even in his own it will be limited as all get out.
To put it plainly, this is almost entirely a slice of life story, as the tags above suggest. And one without sex or gore, to boot! Imagine that, eh? I mean, yeah, other Displaced might make mention of escapades in their own worlds, but if they come to this story of mine? Trust me, they won't be making ANY explicit references. Not on my watch.
Now, I hope all this ranting hasn't turned you lovelies off from reading the story. I just hope you all will give this story a chance. I also hope you all enjoy this, even if only somewhat.

Chapters (1)