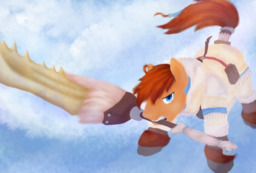 For the young Earth Pony named Teostra Brew, the mining village of Little Flanchard may not be a pleasant place on any given day, but it's home.
Now, Teo stands on the only line of defense against the savage wildlife invading the local area. However, he won't stand alone. Trained by an icy doe and a psychotic caribou, and supported by the local heartthrob and a prissy griffon, he must deal with the fact that he's now a part of the Frozen North's food chain as a Monster Hunter!
---
Based on the Monster Hunter series by Capcom. Rated Teen and Violence for killing dangerous wildlife and wearing it as a hat, which may offend some people.
Not pulled from any game in the series in particular, but World certainly inspired me to revive this.
Cover art is a collaborative effort with Fairy Rave! Give 'em some love!
I must request that any corrections be sent to me as a PM, not in the comments. Please do send them, though. Otherwise I LOVE FEEDBACK AND COMMENTS.
HH main, btw. Hello, giant monster! I will play you the song of my people!
Chapters (3)