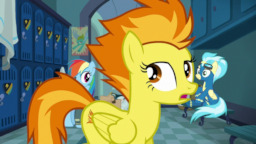 No matter how high a pegasus flies, they are bound to fall one way or another. For some, the fall is far less literal than others. Sometimes a pony can fall on the inside.
Such can be said for Spitfire who, after a botched routine, thinks that perhaps her days as the Wonderbolts captain are numbered.
Fluttershy sets out to prove her otherwise.
Chapters (1)