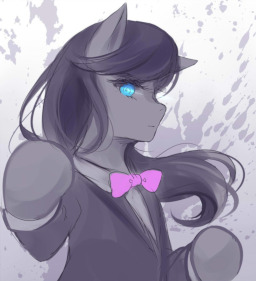 This story is a sequel to Fighters Don't Have Friends
---
We rejoin our hero, Twilight Phoenix Sparkle, stronger, faster, and madder than ever, as she takes on the professional fighters league, 'The Ring'. That only means tougher brawlers from here on out, as she attempts to reach the top and fulfill her promise to Vinyl.
Will she triumph? Or will she forever be a remnant of Vinyl Scratch's shadow? As the number one fighter of the Crystal Empire, Regal (Octavia Melody), shows her that fighting is just as predictable as sheet music. And the elusive 'King' is supposedly there as well. Which leaves just two questions. What will Twilight do when she finds him? And will she ever forgive him?
And huge thanks again to Kani for doing the sequel artwork!
Go support this person!
Chapters (2)