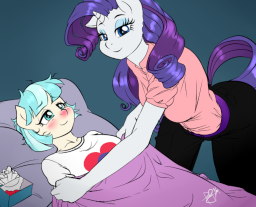 Having missed the grand opening of Rarity for You might have been worse for Coco than any amount of nausea or heartburn. But when her boss shows up to help take care of her, she'll learn that friendship is the best medicine. But in her sickly and woozy state, will Coco also find the strength to confess how she really feels about her employer? And if she did, how would Rarity react?
Takes place after the events of Saddle Row & Rec
Thanks to ACTASAP for editing this, and Pia-Sama for the cover art!
Chapters (1)