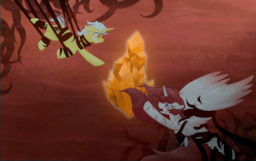 A young mechanic named Crimson Vision had struggled almost all his life had always dreamed of joining the Order's magic academy so that he could follow in the hoofsteps of his hero, the legendary Watcher. But, unlike his peers, he couldn't use magic like other unicorns could, he was seen as inferior by his fellow unicorns while his own family doubted him and his dream.
His life would change one fateful night when he happens upon an injured unicorn, bearing strange markings, claiming to be the Legendary Princess Celestia! Left with no other choice, Crimson must do everything within his power to be her guide in the modern world while keeping her safe and secret from an ancient evil that threatens the long lost princess along with all that he holds dear.
---
Cover art done by: MCShelster
Edited and Proofread by: UnamusedWaffle
Proofread by: Darthball & Wolven
---
8/12/22 - It Got FEATURED!!!
Chapters (1)