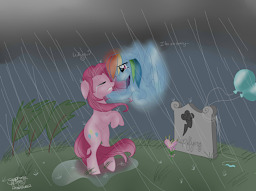 Source
Hello, my name is Pinkamena Diane Pie, but you can call me Pinkie Pie. Dashie gave me this journal for my birthday a long time ago, remember Dashie? I never had a reason to use it, but now I do. I decided to write about my life without you, Rainbow Dash. It hurts so bad not to be able to see you anymore, to hear you, or to play with you. You're gone now. You're gone because of me. You're not here because I wasn't there to save you. I'm so sorry, Dashie. I know you probably want me to stay strong, but I can't, Dashie. I just can't. I need you with me. I truly need you.
---
Rated teen for occasional swear words and the story might have sexual themes, and a little bit of gore. :D
---
Link to the cover art here. Will be removed if asked to.
Chapters (2)