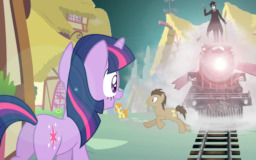 Source
A sinister man who calls himself, "The Conductor," expands his train empire to Equestria. Namely, Ponyville. It's unknown as to how he arrived or where he got his doctorate in developing transportation systems, but it's evident that Twilight must defeat him.
But one thing's clear, this might be Ponyville's last stop.
Written by Mothey and I. So be sure to go check him out!
Group for The Conductor-verse.
Chapters (3)