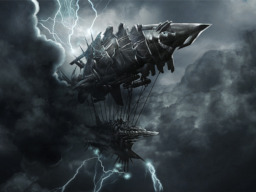 A thousand three hundred and 37 years prior to the return of nightmare moon, there was a battle. Not a battle between armies, but between the forces of pirates and the early airships of ponies and griffins. In this battle, the griffins and ponies lost one of their largest battleships. But in it's defeat, brought upon a retaliation from the pony and griffin forces that fought the pirates out of their skies.
However, that was not the end of this airship... sit down and listen to the tale of the Ghastly skies.
cover image taken from http://alternatehistoryweeklyupdate.blogspot.com/2012/03/airship-update-10.html
hope yall enjoy a story i have been dying to write for a long time.
Chapters (1)