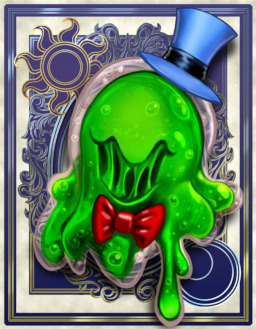 Source
An homage to stories like The Substitute Demon, ALL GLORY TO THE OVERGOAT!!!, and 1000 Virgin Mares, 1 Frickin' Badass Dark Overdude, Infinite Facehoofing
---
One thousand years ago, the Princesses Celestia and Luna were blindsided by the return of the Masters of Equus. The cult of power-mad alicorns, thought to have been banished from Equestria forever, appeared in the middle of the Princesses' battle for supremacy, and caged them away. The rest of Equestria quickly fell to their might. Even the fearsome Discord was forced to his knees before them. All of Equestria was enslaved, and an era of misery began.
Now, one thousand years later, a lone unicorn mare has learned of a creature that might be able to overthrow the Masters. A creature immune to magic, overwhelming in size and strength, sealed away for centuries uncounted. A creature of ultimate evil: the Smooze.
Unfortunately for Starlight Glimmer, in trying to ensure the creature's obedience, she modified the summoning ritual a bit too far.
Because of her meddling, the soul of a recently-deceased human is pulled from Limbo, and given life, but not exactly a body. Now he has to help her save the world, or face obliteration.
Not much of a choice, is it?
---
Inspired by Pen Mightier and Bucking Nonsense, the legends who – to my knowledge – popularized the "human in villain's body becomes Equestria's savior" genre. May your inkwells never run dry.
Chapters (11)