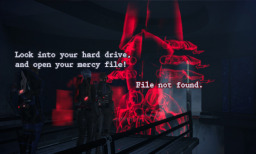 Source
Idea I had rattling about in my brain.
I got the idea from watching some old youtube videos of mass effect, and found the conversation you can have with Sovereign interesting and worth writing about.. So i pretty much typed what he said in response to Shepard's questions, and came up with questions that the ponies would/might say that are along those of Shepard
Hope you have fun reading this one shot!
Getting a message from the Princess to check out a newfound crater in the middle of the Everfree, Twilight and her friends go out to investigate... Only to find a red and blinking hologram of a large insectoid (but metallic) like creature.
Chapters (1)