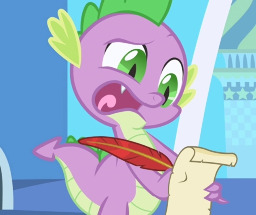 Dear Applejack,
This is Spike writing to you. Okay well I guess you already knew that. Or did you? You probably thought it was Twilight writing to you right? Okay well no, i'm writing to you. Not Twilight okay! Just reminding you cause it is easy to forget. Okay anyways, wait hold on let me get Twilight to help me write these.
It's that time of the month once again for little Spike. The time of month were he ends up getting drunk pretty badly. But for some particular reason while being drunk, he wants to write the perfect love letter.
Oh yeah by the way, the "Sex" and "Teen" tag are for language.

EDIT> Featured on, August 13th of 2014

Chapters (1)