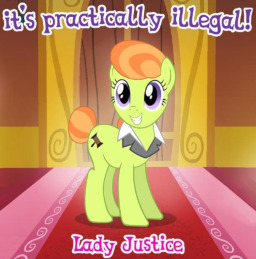 Source
At long last, Ponyville has its very own court of law.
Now it is up to The Honorable Judge Lady Justice to guide the citizens of Ponyville through their trials and tribulations. She's more than happy to get started, but her first case is a doozy! Flim and Flam versus Mistmane in a copyright dispute around the mare's own likeness. Can our intrepid heroine maintain her sanity and deliver justice?
Edited by the honorable Phaoray as usual.
As well as NightShadowMLP/thatdangfangirl the court appointed Bingo Editor.
Written for Shrink Laureate's Season 10 Bingo Writing Contest!
Find the other competitor's entries right here for more good reads.
Prompt: (Beware spoilers:)
Flim and Flam, Spies on, Mistmane, New Technology, Court of Law.
Chapters (1)