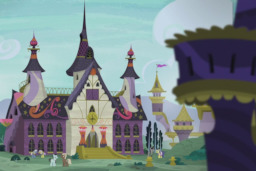 Celestia's school for gifted unicorns, they say there's no better wizarding school in all of Equestria. Filled to the brim with talented ponies, teachers and staff that would gladly help out anypony in need. All of that completed with a number of different libraries, with books covering any single magical subject you could think about. Many famous ponies have already left these walls, some, however, were still polishing their skills under the watchful eyes of Princess Celestia herself. For instance, her favourite student, Twilight Sparkle, who at the time was in her final year of studies.
Or a certain colt with a short fuse, who cares for nothing but knowledge.
Now the young, very short tempered colt struggles to keep his sanity as he's bestowed with a role he didn't want to fill.
Chapters (1)