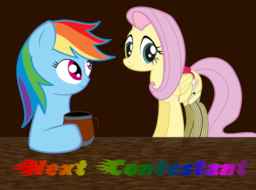 Really? Of all the empty spaces in this bar, you choose the stool next to me? I'm not interested, dude. Trust me.
Say wha-? You think I have a story to tell? You're kidding me, right? Yeah, I got stories. Yes, I helped stop Nightmare Moon. Yes, I punched Discord in the face. I've faced a dragon and the queen of the changelings and lived to tell about it, and before you ask, the rainbow mane is natural, and so are the wi- oh, not like that?
Something about me, huh? Something that makes Rainbow Dash Rainbow Dash? Why? Besides the obvious overdose of awesomeness, of course.
Huh. That's a strange special talent. Can't say I've seen story-finder before... Well, as long as you're here, I guess I could talk for a bit. But you're buying your own drinks, ok?
Third place winner of the May contest in the SFNW
Chapters (2)