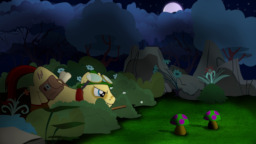 Source
Damon is Grand Supervisor for the Ministry of War's summoning circle, the powerful device responsible for lending summoners control over their champions as they duke it out on the Fields of Justice. Much to his surprise (and chagrin,) a temporal anomaly forces ten unwary summoners to invoke ten even more shocked ponies from the land of Equestria.
Never one to be fazed, Damon allows the new change to go through. Twilight and her allies, now under the influence of the Summoners of Runeterra, have to fight their friends and loved ones.
Hilarity ensues.
-~-~-~-~-
A League of Legends / My Little Pony crossover, of sorts. I never claim to be the most attentive to detail, so I've probably messed something up somewhere. I'm sure my lore isn't spot-on, so I thank any constructive criticism that fixes a grevious wrong. However, I have to encourage a little bit of leniency. Certain aspects of Runeterra and Equestria may or may not have been changed to facilitate a simpler story, let alone one that allows ponies to roam about the Summoner's Rift.
This is a fun story, with many references to the game and the way it's played. References abound, and those of you who don't or haven't played probably won't get it. To those of you, I have this to say:
You're missing out.
The story will take place over several long chapters, culminating in the end of one single match. Depending on the reception of the story, I may or may not write a second match with different ponies and different abilities. Over it all will be a -VERY- liberally-adapted storyline within Runeterra itself as Damon and his colleagues try to fix the egregious error in the Ministry of War.
Chapters (2)