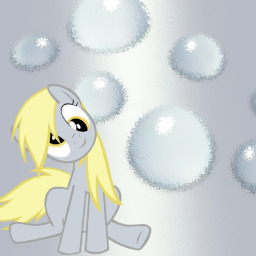 Source
After having a bad morning, Anon ends up on an impromptu date with Derpy.
Meanwhile, Pinkie Pie finds her lost property, Rainbow Dash converts to Islam and Princess Celestia must die.
Short, cute, fluffy and stupid Anon x Derpy one-shot.
Contains: Pulp Fiction, bacon, atrocious pacing, Pokémon, religion, hayburgers, science, thick butts and antitheism.
Rated T for the usual language and mild sexual themes.
I think this might be the single worst title I've ever given to something I wrote.
Chapters (2)