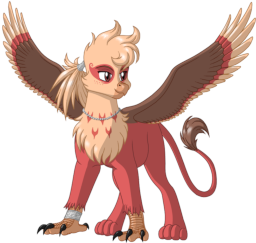 Hiatus until summer break, at which point I have a time to organize material, potentially to release over time. Until then, if you wish, you can read it on the bay12forum post, which is linked later.
---
---
Thirty years before the founding Dawnpick, the world is in a relatively peaceful, if fragmented state. The ponies, griffons, zebras, diamond dogs and others live in relative isolation, trying to stay out of each others' ways. There are the few merchant guilds that span the gaps between their lands, but most find the work hard, unforgiving, and oftentimes not profitable enough to extend their reach deep into the various kingdoms.
To remedy this problem, many are seeking to set up permanent trade routes and trading posts to supply them. The Prestigious Confederacy is one such group: a large merchant organization staffed by a wide variety of creatures from many lands and seeking to bring them together in the name of economics. They have chosen several key sites, chosen the most eager of their bright eyed and bushy tailed upcoming officers, hired the needed help, and sent them on their merry way to fortune – or ruin.
This is the story of Isolde Hookbill, a young adult griffoness, and her team, set out on the road to found Shadytrails. Deep in the south, it's near enough to several old trade routes and rivers large enough to handle shipping, so it seems to be a promising site.
Will she bring fame and fortune to her employers, or will disaster strike first?
---
Shadytrails is a community fortress and ongoing roleplay (using the Dwarf Fortress MLP mod).
All artwork unless otherwise stated belongs to Kryptid. The fort itself is Telgin's, who has released it for use and granted me permission to post it as a story. Though currently applicable to nobody, anyone who has said they don't want to be included in the fimfiction version will not be.
It is recommended that you read this blog for background so you understand the setting, otherwise you'll be rather lost. A character list (up-to-date for the fimfiction version) for everybody's convenience can be found here.
The story will be at least one game-log update behind the actual RP to allow time for all the materials to be completed. Tagged Sex for suggestive (or potentially suggestive) moments or sentences. There will be a few dark-ish moments, and if they occur more often I'll add a dark tag. Gore is for the inevitable mention of the combat scenes, blood, etc. Things that would be expected in a fortress/settlement building game.
Chapters (39)