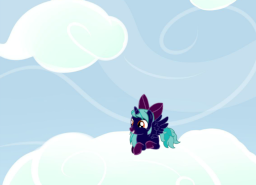 You've probably been anticipating this for a while now, and here it is; the sequel to How I Met Derpy.
As the proud parent alongside Derpy, I've taken up the task of recording the life of my daughter, Snow Cloud, as she begins school. Here's the life of my little filly as she struggles in everyday life in her conquest to make friends and learn her special talent.
Guess stars in this story:
Pen Stroke's Nyx from Past Sins (she's adorable).
Lowell (AKA Valentine-crin).
Lightningstorm740 (Her real name is Megan. She is an excellent writer in my opinion. Check out her page. She even has more followers than I as proof of being good at what she does).
Gage (though you all may know him as Dovahbrony).
Finally, there's the famous Derpy Hooves (her character tag isn't there because you can only put a maximum of 5 character tags).
Story now with new cover art!
Chapters (8)