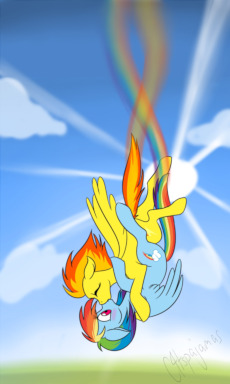 This is the first installment of my PTS (Ponify that song) series! If your curious as to what that is you can check my blog post here! This story is based off of 'Falling Away With You' by Muse. It was suggested by Irishtiger. If you would like to suggest a song than either do it here or in the comments. Enjoy!
Spitfire and Rainbow Dash have been dating for nearly a year. In that time Rainbow found her spot on the Wonderbolts and has been living a life of carefree luxury. Using the large income from their careers, Rainbow and Spitfire have traveled the world together. They have done nearly everything adventurous a thrill seeking couple can. When Spitfire and Rainbow decide to cut loose on the to one of their practices, a tragic accident leaves Spitfire in a hospital bed, confused and worried.
Thanks to the wonderful Tarascha for editing!
Chapters (1)