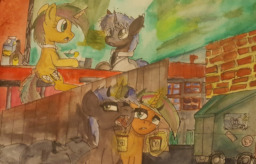 This story is a sequel to The Devil and the Artist
---
Selenia grew up as an only child and with a loving father and a good home. She learned to fly kites and how to read. And also how to shoot with weapons. She is a professional sniper trained by her father to become the deadliest thing the country has to offer.
Brushtip is the daughter of a normal Artist in Baltimare. She grew up to become best of her class and studied economics. After some internships, she became an owner of some Bars and Strip Clubs in Baltimare and lived easy and relaxed.
Both are different than the rest though. They are Devils. And there are some mysteries to uncover...
Cover art by me
Chapters (9)