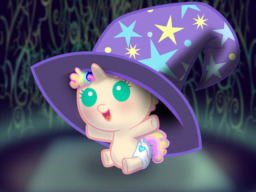 Source
The newborn daughter of Cadance and Shining Armor is a national treasure of the Crystal Empire, a symbol of hope and joy across all of Equestria, and possibly the most widely beloved foal in all the world.
But for those closest to her, she's also just a regular baby: a copious fountain of panic, sleep loss, and organic fluids. Any newborn pony can cause havoc with spontaneous magic, but a baby Princess may be more than a whole castle of royal foalsitters can handle!
---
Originally created for the Most Dangerous Game contest perpetrated by Obsolescence, but I missed the deadline, and ended up renovating the never-quite-finished contest draft into a stronger, bigger story. Since the whole point of the contest was to take up well-overdone cliches of the fandom and do something, well, good with them, I do hope that Constant Reader will trust me far enough to get past the warning flags among the tags.
Chapters (5)