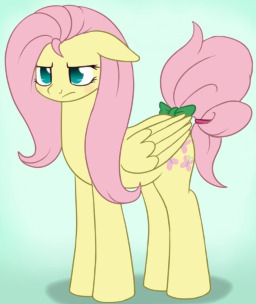 _____ Fluttershy notices something while on her way to meet up at Victoria's house, her human friend. She's being followed. Again. Of course, it is by one or both of the two humans that she helped not too long ago. They think she never knows they're there but she does. And it's not just the following, it's how they've been acting recently, as well. Which is why she's heading to Victoria's to enlist her help to find out what their deal is.
_____ Set in season three.
_____ Done as a gift for TGM. Blessed be he. I'm also unsure of who the artist is, so if you're wondering about who did it, ask TGM. Oh. And Preread by TGM as well, I guess.
_____ Rated teen for some colorful language and some implications.
_____ Probably the only story that has anything to do with anonymous that you'll see from me.
Chapters (1)