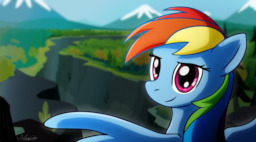 Source
Dyson, a Northern Mississippi slave from the Civil War Era, wakes up alone in Ghastly Gorge, a place where eeriness lurks around every corner. Luckily, a colorful pegasus runs into him. Will he and his companion escape from the hell of the Gorge, or will they succumb to its lifeless prison?
Thanks to Alex_ for helping me fix my short description, and thanks to Barracuda cyborg for helping me with editing!
WARNING: if you can't handle the word 'nigger', I suggest moving along.
Chapters (7)