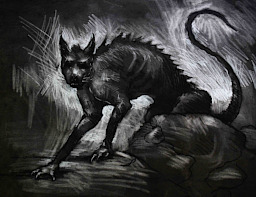 Source
================================================================================
This story has been canceled for lack of interest in writing this story.
There is a low chance that I may continue the story, but at the moment I am not.
================================================================================
Well, let's start with the obvious: I am a human from the world of humans... in a Chupacabra's body... in a new world. Shit well, at least it's a break from my extremely boring life of programming.
Ok, hold on let's do some introductions: my name is James and you are the reader for my story, nice to meet you.
Ok, so now that craps over let's start with what I am for I am not just any old myth, I am a super hyped up powerful myth with awesome fucking powers.
So how will I fare in this new world and how will the people/ponies (what...?) of it respond to a car-sized super powerful black wolf creature, they may or may not have seen before...?
Hopefully well...
-Edited by >>>>Inrix<<<< I need him, without him I would be dead...
Chapters (4)