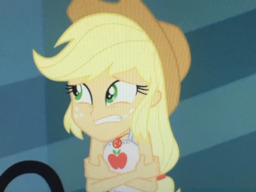 It was just a typical day of work for Applejack. Eager to get home, just one last errand in the freezer. That is, until she finds herself locked in.
Just great, now she'll become the butt end of everyone's joke. That is, when she gets out.... if she gets out.
No! That's silly, of course she'll get out... right?
*open for a better title, written for https://www.fimfiction.net/group/214288/the-cult-of-raccoon/thread/398722/nightmare-night-in-april-horror-write-off and thanks to my friend Sparrow for editing advice so some changes may be on the way. Please feel free to comment and like to help
Also, you can help by supporting me on kofi
Like The Darkhorse KC ChrisyChris, and to my firs ever supporter ChaosXIII, where you can get your name shouted out just by editing, and even have do things from colabing to editing for you.
Chapters (1)