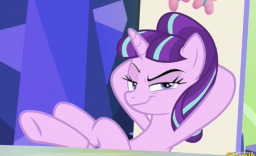 You have no idea how long I've planned this out. I've been spying on you for months, looking for the most devastating way to destroy you, to rip your cutie mark off and begin my perfect utopia of equality anew. And I didn't come this far just to be sweet-talked into accepting your 'Magic of Friendship'!
Which is why I will.
I'll 'accept' your 'Magic of Friendship', play nice, be a goody-four-hooves, whatever the correct term for it is.
I'll bide my time until you let your guard down enough for me to make my move. And since I can't destroy your past without screwing Equestria itself, I'll settle with destroying your future!
Rated Teen for mild language.
Chapters (1)