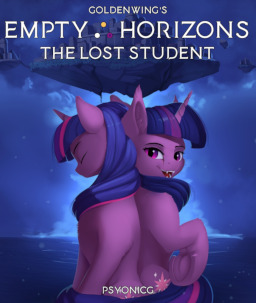 True magic has returned to the surface.
Twilight and the Elements of Harmony had awoken to a world completely unlike their own, where the abilities they saw as natural were lauded as rare and powerful. The last few months saw them deal with bounty hunters, the depths of the sea, and the deadly politics of this new world. And lose.
Twilight, in a desperate bid to save her friends, had harnessed a power unlike any other and conquered her enemies in one fell swoop... at great cost. Now she is separated from her friends and tasked with a mission to bring back the Equestria she once knew, all while tainted by strange magic she barely understands.
At least she isn't alone.
---
This story takes place after the events of Empty Horizons and is technically a sequel spin-off. - Nothing in this story is canon to the EH universe, it is my take on Twilight and the Other following the events of EH's finale.
Thank you Goldenwing for his amazing story which inspired me to write this in the first place, and all the people on the Empty Horizons Discord for the support and encouragement! Specifically Patchy and Gold for their editing work!
If you love the story, come join us on the Discord!
Chapters (7)