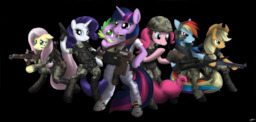 Twilight and her friends are no longer part of the elements of harmony, and have separated paths with each other. They are now part of the C.M.E (Celestial Marines of Equestria) and have intercepted a signal from the planet LV426.
As they land on the planet, they will face horrors they had never faced before. Will Twilight and her friends reunite with again? And what horror lies on the service of LV426?
P.S This story has the original unicorn Twilight, not the Alicorn Twilight.
Chapters (7)