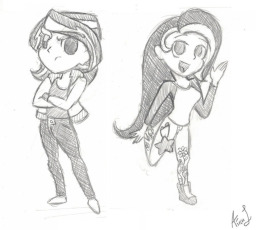 Source
In a fit of anger Sunset Shimmer jumped though the portal. Now 'banished', bitter, and homeless she debates her next move. When Plushy Star sees poor Sunset Shimmer wandering around the school, she decides to ask her parents to take her in! After all her mom said, "Help those who can't help themselves!"
Which would be fine only, somethings off with Sunset Shimmer and now Plushy is acting strange too.
Can a simple, silly, and childish high school girl change Sunset into a better person or will Sunset change her?
1st person POV
Characters belong to:
margopolo_fimfiction
kudzuhaiku
Nova Cosmic
Cover art by _Vidz_
Chapters (4)