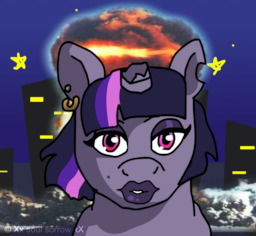 Source
This story is a sequel to Fallout Equestria: Dream of Darkness
---
It's ben 3 hole years since the events of Dream of Darkness...
After being left behind at the Assylum, Twilight hears word of the death of her friends in the evil castlle and decides she must team up with her Buds to stop Sombra once. and. for. all.
Follow Twlight as she pairs up with Apple Jack, a mechanic for Cars, and an all too familiar griffon face...
CREDITS to candycrusader for the Art!!! She is the 1 who made the art for the orginal story. She has improve so much

I love it to death and back
Chapters (6)