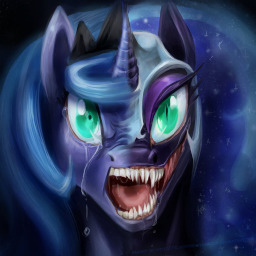 Darkness: 1st place in /fic/'s "What Lies Beneath" minific competition. Luna searches for the force that will grant her the power to overshadow her sister, but soon discovers that the Darkness is not hers to master. The same is not true for the Darkness.
A Deal to Last a Lifetime: 3rd place in /fic/'s "The Price of a Dream" minific competition. Scootaloo getting to live with her idol is only a signature on a blank cheque away. According to Section 50, Clause 153, Subclause 3, the price of gaining a dream is losing another, but none can match up to that... right?
Spikes and Stones: 3rd place in /fic/'s "My First New Years Alone" competition. A dragon must consume a wyrmstone before they can truly reach their potential, and the best way to do so is to rip it from the heart of a golem. Such is easier said than done, as a young and brash Spike quickly learns, but with time and experience not even a stone-hewn monolith can survive the trial of fang and fire.
Chapters (3)