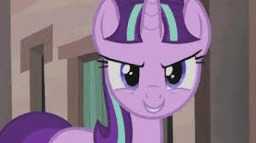 This story is set in the same universe as "The Mane One" and "Goddess of the Moon".
https://www.fimfiction.net/story/474605/1/the-mane-one/the-mane-one
https://www.fimfiction.net/story/474721/goddess-of-the-moon
I'm experimenting this idea in my universe. Let me know what you think! This is probably my most controversial idea for my MLP future universe.
Putting in a prologue to this story and then planning on finishing "Goddess of the Moon".
In this story - Starlight Glimmer never reformed in "The Cutie Re-Mark". She simply saw that Twilight Sparkle was never going to give up on thwarting Starlight's plan - so she decided to surrender. Starlight had simply been waiting for the opportunity to take power back for herself. Starlight sees the opportunity of taking on two inexperienced princesses as that opportunity. This is the final stage of Starlight's plan to take over all of Equestria.
Chapters (3)