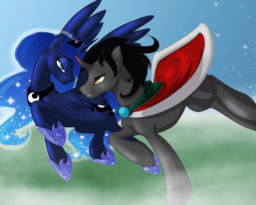 This story is a sequel to Lingering Shadows
---
He broke her heart once already. Luna learned her lesson when Sombra last tried to manipulate her, and she wants nothing more than to forget about what happened and put it behind her.
Sombra cannot forget, nor does he want to. Regretting what happened between them, when the chance to make things up to Luna comes from some very unexpected sources, he takes the opportunity and wants to try to court her properly.
But once bitten, twice shy, as they say. Will the two ever find happiness with one another?
---
I have to offer a huge thanks once again to everyone who read the previous story, Lingering Shadows, and encouraged me to go ahead with my idea for a sequel. Apologies for the wait, but here you have it at last. I'm going to try to get on a regular update schedule of at least 1-2 chapters a month with this one.
A huge thank-you to Kelisah of deviantART for graciously allowing me use of her artwork as a cover piece for this story!
8tracks playlist: https://8tracks.com/yoru-the-rogue/midnight-radiance
Chapters (9)