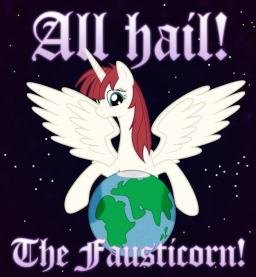 Queen Faust, Creator of the planet Anima and every creature that walks under the blue sky, Immortal and Everlasting. She is bored.
She is bored watching her creations meander around the peaceful skies of Equestria. Oh, sure, there was the occasional creature and monster that her daughters and their student and her five friends would have to deal with. Usually the student and her five friends saving her daughters. But this wasn't enough to keep Faust not bored.
So, for some entertainment, she decides to bring in some otherworldly help...
In the form of an amnesiac Human...
That looks like her...
And has her powers...
This can only go so well.
---
This idea came from the user "Randomrusina". So thank him for the idea.
---
Featured on 3-15-18
Chapters (6)