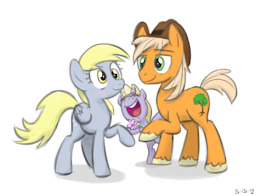 Derpy spends too much time in fanon being a tragic character, and deserves to be happy. This is a story about a recent addition to Ponyville who falls for the wall-eyed pegasus. After some setbacks, he eventually manages to keep his hoof out of his mouth for long enough to do something about it, and grow closer to Derpy and her daughter.
Apologies to anyone who prefers to call her Ditzy. Derpy is the name I prefer... but no hard feelings I hope?
Cover art by the wonderful Scruffy.
Chapters (6)