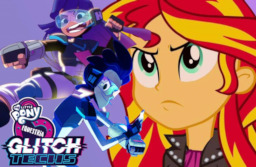 Source
Hinobi, the greatest videogame company in the world. A perfectly normal company that sells games for all ages and platforms.
But after witnessing a monster coming out of her new console and the Hinobi employee erasing their tracks Sunset is convinced that Equestrian magic is involved. The girls would have to find the truth about Hinobi as the avoid their memories being erased by the Glitch Techs.
FEATURED 10/26 thank you so much guys!!
Chapters (11)