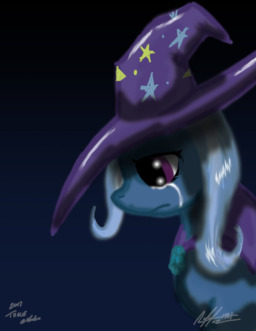 My pride has been killing me ever since I started down this path, and I have helped it along all the way. With every decision I've made, with every boast I've shouted, with every crime I've committed, it's strangled me more and more, it's cut out the foal my parents once knew and the mare that I could have been. Maybe, if things had gone differently, I could have been useful with my life, I could have helped somepony. Maybe I could have been truly great.
Now, though, it's too late. I can't take back any of the decisions I've made, I can't rewind time and warn myself of how I was destined to fail, of how I was poisoning my mind with fruitless hopes and vain reasoning. All I have left is this paper on which I can jot down my final thoughts, this pen with which I can make a record of my sins. As pitiful as it is, this is all I can do to redeem myself. This is my only way to atone...
---
Cover art by AFL316.
Proofread by BloodLord and seeker9709.
Chapters (1)