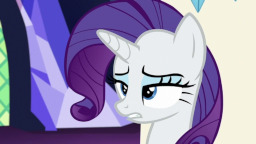 What is a mediocre villain to do these days? How in Equestria do you compete with the likes of Chaos gods and love-stealing shapeshifters? Ever since those Bearer brats found the Elements of Harmony and Princess Celestia's long-lost and kind-of-evil-but-not-really-in-the-end sister returned, nopony bats an eye at the small potatoes any more.
Small Potatoes himself just cannot take being relegated to the side lines any longer! He has one, glorious plan in the works, one that might finally see it - his name, that is - go down in history. He's going to do the one thing that villains all over Equestria have been failing to do since that fateful Summer Sun Celebration to stop the Guardians of Harmony once and for all.
He's going to hire somepony else to do the job for him.
[This story contains scenes about death, attempted murder, some blood and an injury described in light-moderate detail (and with a humourous bent, I'm hoping.)]
Chapters (8)