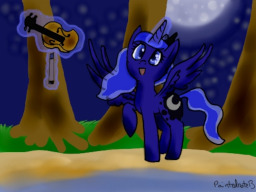 This is set when Celestia and Luna are young princesses.
Though the two princesses are ruling over all of Equestria it doesn't mean that everything is happy and good all of the time. Luna is constantly in her sisters shadow, always being overlooked. Sometimes escaping is the only way to keep her jealousy under control. After a few times of escapes away from the castle she met up with a peasant, a very dangerous peasant. After she is caught meeting with him, she is held in the castle and has guards posted outside her door. She is told she must raise the moon from within the castle, and not until her love has left she can return to her patrols of the night. The little filly is finding it hard to control her temper and has to go to her special place and meet her love, before it is to late.
I drew my own title image.
This my not comply with your head cannons! Only read this if you want to hear a new opinion.
Chapters (1)