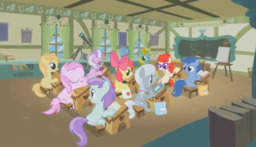 My Father's Day Special, the school foals are required to bring their fathers to school and talk about their jobs and their family life.
Of course, all is not well in Ponyville, so naturally Cheerilee learns more than she would normally care to know. In fact, Cheerilee will soon want a good dose of brain bleach.
Cover art credit is a screenshot of the show uploaded on the MLP wikia.
Chapters (2)