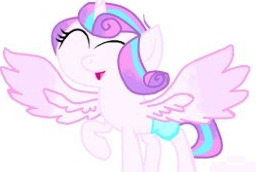 In an unfortunate turn of events, leads a human by the name of James Wyld ends up as a member of a slave race. He's a human too, just not like the ones around him it seems. The rest are dumb, not sentient like he is. Soon though, he finds himself taking care of the princess of the Crystal Empire. As times goes on, he grows on to the tiny foal who calls herself Destroyer of Worlds.
Follow James (Pence is his pet name) as he goes on grand adventures with his 'owner', Flurry Heart through the means of imagination and fun.
---
Gore is going to happen. If there was sex and gore this fic would be mature....well...if it had sex in it, it would be mature anyways. I think a regular teen would know what intestines look like, right?
Also, I had word vomit, so...yeah.
Chapters (1)