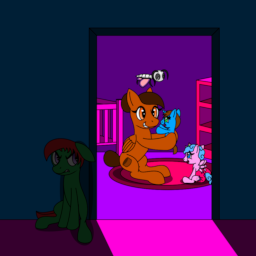 This story is a sequel to Mindset's Foalish Vacation
---
Tinker gets a letter from Mindset asking him to join her on vacation. Though hesitant upon learning where, he agrees to join his sister in a relaxing, (and regressive,) stay at the Kingdom of Fountonia, a kingdom inhabited by foals. After meeting some friends from her last visit, the two drink from the regressive water as they both return to their days when Mindset was just born.
Tinker, now as a seven-year-old, begins helping his now newborn sister, but as time passes, old memories he had long since forgotten begin to resurface, and he soon questions whether he was always the good older brother he remembered himself being, or if these pleasant memories only hid his true thoughts and feelings towards his sibling.
This story contains Diaper Usage, Regression, and some Mature Themes. If this doesn't interest you, might I suggest some good anime?
Chapters (2)