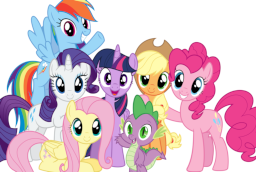 Twilight and her friends weren't going to stay young mares all their lives. As time passes by, they go on with their lives. They get into relationships, get married, have foals, develop their careers, have crises, and yes, they also die. Only Twilight, an Alicorn, will not die of a natural death. What will the mane 6 do with their lives?
Warning: Really sad, definitely not for the soft-hearted. No gore or sex, but adult themes and language.
I'm now making an audio version of the fanfic. I have voice actors for the narrator and Fluttershy. If you want to participate, send me a PM.
Chapters (5)