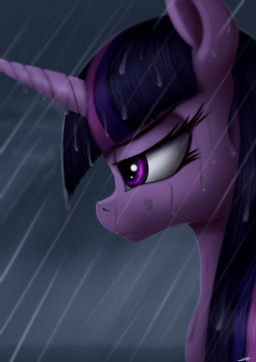 Source
In an ongoing war against the ever-persisting changeling threat, Twilight Sparkle grows ever desperate to rid herself, her closest friends, and Equestria of Chrysalis and her army for good. Confiding in her friend Rainbow Dash that she feels as though all of their efforts have been for naught, begins to consider more drastic measures.
Rainbow, out of concern, and love her longtime friend, persuades her out of it, but after a day of fun between the two ends in tragedy, and after receiving a threatening visit from Chrysalis herself in the dead of night, Twilight finds herself with seemingly no other options but to open herself up to dark magic.
From there, things only get worse.
Edits provided by xgfhj
(A spin-off of Winds of the Past. Reading that isn't necessary to understand this one, and operates almost entirely separately from the aforementioned.)
Chapters (16)