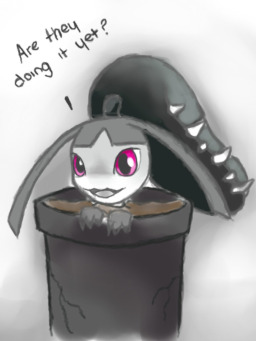 Source
This story is a sequel to The City is Always Bustling On the Other Side
---
Everything is finally settling in Vinyl's hectic life. Finally back in Ponyville and happy to be away from the hustle and bustle of Manehatten and back to her late afternoons and rowdy nights. Now instead of dealing with all the chaos of pokemon in the big city she just needs to deal with the three that have moved into her and Octavia's home.
And what a headache they could be. For each other.
Terra keeps pestering Nick and Elena and their so-called relationship. Always putting them into rather...risque situations. Vinyl can only wonder at how much more they can take before finally go Primeape on the little cupid-wannabe.
Part of my sidestories within A New World, A New Way
Edited by: Tdnpony
Coverart made by Jayesixx
Chapters (1)