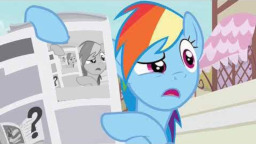 Red Pen has one job at the Canterlot Chronicle, and that is to go through the submitted letters to the editor and decide what to actually put into the newspaper. 


Good stuff gets in. Bad stuff gets thrown away.


And then there are the things in between: the random, the unintelligible, and the thoroughly insane. Those letters are put into a "best of the worst" box in the back of his office with the enigmatic label: "Concerned Citizens." 

This is a collection of idiocy that was found in that box.
Written for CRACK-STORM 2020
Tagged with [Sex] for innuendo
Chapters (1)