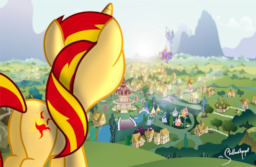 This story is a sequel to Sunset Rekindled
---
Set a month after Sunset Rekindled, Sunset Shimmer and her friends are finally returning to Equestria after an extended leave of absence overseas in Saddle Arabia.
It is a period of unrest and turmoil in Equestria in the wake of the defeat of King Nelphyn and Tirek alike.
Talk of civil war is brewing between the royal-controlled settlements of Equestria, and those under the perpetual vigilance of the Neo-Templars.
A strange anomaly lurks among the waves that endlessly crash among its shores, pulling ships under to their demise. Inspiring fear, hostility, and paranoia, the origins of these attacks are unknown, and both of the major Equestrian factions have exchanged the blame with one another, and a threat of all-out retaliation is in the air.
Meanwhile, the ancient god of evil that is Saegmuntitus has yet to unfold his ultimate plan unto the world, but promises will be kept and even the Alicorns alone will not be able to avert this when the time comes.
To face these dilemmas, the power of friendship will have to spread like never before, as Sunset Shimmer and her friends venture forth into an odyssey of epic proportions to the far corners of Equestria...and beyond.
Current cover art: "Sunsets Dignity" by Shutterflyeqd
Chapters (14)